I'm jumping on the Thanksgiving Thursday Bandwagon..
>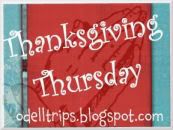 >
A few things that I am thankful for this Thursday:
1. My MoM friends Amanda, April and Melissa- I'm so lucky to have a group of such cool girls to hang out with. Check them out here and here and here..
2. The Kona coffee my mom and dad brought me from their trip to Hawaii.. I'm trying to ration it out so it lasts as long as possible, but it's dwindling!
3. Living in Florida… I have often complained about it for various reasons that I won't get into right now, but right now is when it's alllll worthwhile. For example, we are going to the beach next week to do pictures with the babies.. can't do that in N.Y. right now..
4. My favorite blogs… a year ago, I didn't know what a blog was, but now I am fully addicted to reading other people's blogs. I love reading what other people go through, and hearing what they think. There are many that I enjoy, and here are just a few:
The Steece Quads
This couple is so positive and inspiring.. (and they have a little Bennyboo too!)
Little Bites of Heaven
Some of the cutest triplets around! I love the photography on this blog too.

Pyjammy's Blog
This is always a fun one.. these boys are very close in age to ours, and sometimes I feel like we are living parallel lives!
5. The fact that my children are healthy…. it seems obvious, but lately I am hearing about so many poor little babies that are seriously sick, or have just passed away. I really just can't imagine what I would do if that happened to my kids. I have a hard time understanding why babies have to suffer.. all I can do is hug them a little tighter and love them even more every day. No matter hard life is sometimes, I realize how amazingly blessed we are to have healthy babies.
And now.. it wouldn't be fair to post without any pictures, now would it?