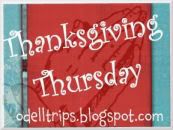 As always, it's nice to take a minute and focus on the things I'm thankful for. Everyone should do this every once in a while.

Today I'm thankful for my family. Even though they haven't heard from me in a while, and probably don't know exactly why, I know they still love me and are waiting patiently to see what the story is.

I hate to copy this from Amanda (and every other multiple mom), but it's true: the coffee machine. Before kids, it was a luxury, after kids, a necessity. I'm also thankful for my International Coffee Cinnamon Bun Creamer that makes it oh so sweet without having to put any Splenda in. Anything that helps me skip a step is good.

I'm thankful for my new blog layout, I love it! Thanks again Krystyn!

I also thankful for my husband, who let me sleep in today.. til 9! That's a very long time for me. In return for this, he's out golfing now. I'm glad he's getting a chance to spend some time an with old friend while doing something he loves to do.

What are you thankful for today?