>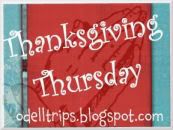 >
So much to be thankful for this week!! I have to keep this short because I'm hearing some chirping from the kiddos.. which leads me to number 1-
I'm thankful that my kids just took a two hour nap! I got so much work done! By work I do not mean laundry, cleaning or taking a shower, but that's ok. It was important stuff nonetheless.
I'm thankful for this brand new gorgeous and highly functional laptop that I am typing on right now. No, it wasn't really a good time for a purchase like this, but I NEEDED it. Trust me.
I'm thankful for my little nuggets. It goes without saying, but when I think of what I'm thankful for, they just keep popping into my head. They make my day…and my life.
What are you thankful for today?