>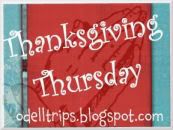 >
This week, as always, we have a lot to be thankful for.
We are thankful to have our Uncle Kevin, Aunt Sheri, and cousins Katelyn and Ashley in town! We are going to Disney with everyone and CAN'T WAIT!! We have missed them so much, and I really am so excited to see how the babies interact with their big cousins now that they are a lot older!
I am thankful to our sponsors for our "Cutest Multiples Contest".. although they are not offically announced yet, I am so excited about the generosity of these companies towards our brand-new network. Can't wait to tell everyone what they can win!
I am thankful that my back seems to be better.. I thought I was going to be out of commission earlier this week, but the problem seems to have gone away on its own:)
I am thankful that Cameron has not nibbled on any siblings for at least 4 days now! I think the "naughty pack-n-play" time-out seems to be working! I worry about what will happen the next time we travel and he has to sleep in one, but, that probably won't happen for a very long time anyway:)
I am thankful that the insurance company somehow covered 100% of the EKG that Ben had in Feb (which turned up NO problems!) That is a shocker! I am not thankful however, that Humana sent me a letter stating that they need to do a review of his medical history due to his recent "diagnosis". (Diagnosis?? What diagnosis? Apparently just the fact that he went to see acardiologist is considered a diagnosis. Good to know, because I freaked out for a minute when I got the letter)
That's it for now! Happy Thursday!