>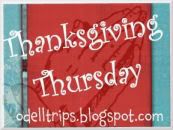 >
I'm thankful this week for………
My rediscovered

motivation for running

! I jogged 15 miles this past week and it all felt pretty good! I'm also thankful that my knees seem to be cooperating thus far.
The fact that I got to go out for a couple hours last night, and came home to my husband…

cleaning the bathroom.

That was so awesome, I can't even describe it.
The fact that Cameron added a

new word

to his very small but burgeoning vocabulary: "ball". Of course, it just sounds like "buh", but I'll take it. He is so darn proud of himself, he says it over and over..:) I am really looking forward to the "language explosion" that hopefully we are in for soon.
Ben's renewed

interest in the jumperoo

– the only surefire way to keep him contained for 2 minutes if I need to use the bathroom or get dinner ready. That kid can and will get out of the playyard in 5 seconds now. Luckily Lily and Cam haven't quite figured it out yet- but they are trying. I'm glad I kept one jumper!
The fact that the

kids actually ate

everything I made for dinner last night. Broccoli and cheese pasta, with zucchini and baked chicken- sounds good, right? The first time I made it it was a major flop, but last night, it was like the best thing they ever tasted. It's always cause for celebration when they actually eat what I make. The picky eating phase is.no.fun.

The other day I left the room for literally 5 seconds to get the phone, and this is what I came back to.. I have to keep the chair outside the playzone so they don't push the walls out.. but it also makes a nice landing pad for Ben.